Those of you who are regular readers will know of my love of all things Eurovision: the song contest which, despite being about us all getting on and loving each other is quite the global battleground. I threw Eurovision parties alongside my ex for around ten years, then in more recent times hosted small intimate get-togethers while friends watched the show. Last year I said I wouldn't host another one, so throwing caution to the wind I booked myself a ticket to Stockholm for the Eurovision Song Contest 2016.
Starting on Friday…
Landing at Arlanda airport I hopped a reassuringly uneventful shuttle train to my hotel at Hammarby Sjöstad, stereotypically furnished like an Ikea showroom. Half an hour of freshening up, and off exploring.
First destination: The Eurovision Village, a small arena with two stages in the centre of Stockholm near the Royal Palace. Sponsors plied their wares with Eurovision gimmicks: you could karaoke on a little stage, dress up as an act, have yourself recorded or photographed and publicised. On the stages previous Eurovision acts sang their songs and had a stab at current entries with everyone joining in.
Absolutely everything was Eurovision with banners all over the place. Round the corner sat a huge countdown clock with a queue of camera-wielding public waiting for their selfies. Printed signs in shop windows saying "Eurovision Special! Handbags, 349 SEK!". Pedestrian crossings played Loreen's Euphoria while you waited and Måns Zelmerlow's Heroes when it was time to walk. Rainbow postboxes. Anything which could be linked to Eurovision was – but bizarrely very little actual merchandise save for a small stand with a huge queue in the Village itself. On one side the ABBA Museum had a booth and given I had nothing to do that day other than explore, I booked myself a ticket and hopped a tram.
Pop House is a little museum complex housing a couple of exhibitions alongside the ABBA Museum itself, in particular a temporary Eurovision Song Contest Museum. With exhibits such as Conchita Wurst's Rise Like A Phoenix dress from the Eurovision Final 2014 and ABBA's award medal from Brighton in 1974 there were certainly lots of things to look at. Through into the ABBA Museum itself it seemed to have it all – from the tour vans which Björn and Benny started their careers with, to a telephone which if it rang was apparently a member of ABBA themselves phoning the museum for a chat, exact reproductions of their studios and management office, vocal booths, and a stage where you could perform as the fifth member of ABBA. Gold discs abounded alongside artefacts from the big tours. Finally, there was an exhibition of Swedish pop history with "stuff" from Roxette, Ace Of Base, Swedish House Mafia and all those sorts of artists. Very enjoyable.
I figured I really should eat something and as I'd been awake since 4am travelling, going back to the hotel restaurant seemed a good idea. Reindeer for tea – a very lean meat, wonderfully presented, with a glass of Shiraz for company. I was about to head to bed when I got a message from my friends James and Simon – did I fancy going to a party? Oh goodness. I booked a ticket, freshened up, and got a cab out to one of the hotels.
The rest of the evening involved dancing, a rather splendidly-presented rhubarb cocktail with a price which would put the GDP of a small country to shame, more dancing, ridiculously expensive G&Ts which were 98% gin with the tonic waved from a distance, watching a couple of past Eurovision acts play live, and a nice chat with Charlotte Perelli who sang Hero for Switzerland in 2008. And that was just Friday!
Saturday's Daytime Amusement
Saturday brought an opportunity for exploration, so off up to Gamla Stan (Stockholm's Old Town) and shopping. It's quite a nice area with lots of little shops to poke around in: plenty of tourist-trap places selling Swedish-themed tat but a few rubies in the dust, such as a nice little jewellery shop with a shopkeeper who was only too happy to discuss who might win. She'd been to the jury final on Friday night and I had to repeatedly ask that she not spoil it for me, so I figured I was in for a treat later.
A happy discovery: Sweden has more tall women, which means the shops are better stocked for us lanky birds and at a reasonable cost too, and everyone's so friendly – even the lady in H&M taught me some Swedish when I apologetically mumbled I didn't understand what she'd asked of me. I started with "hej" (hello) and "tack" (thanks), and the basic number system. On the topic of language the pronunciation of "j" as "i" confused me when I got in an Über cab where they already know your name, and would say "yes?" and I'd reply "er, yes!", followed by "no, no – your name is yes?"… "ohhh, Jess, it's pronounced with a J, I do apologise." (Apologies by default, how British…)
Lunch was meatballs. Well, you have to, don't you… none of this Ikea stuff here! More poking around in shops, and back to the hotel to get ready.
The Grand Final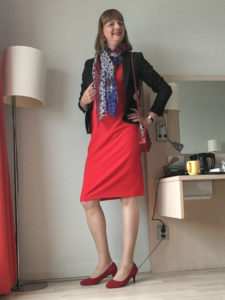 I wasn't intending on overdoing the patriotic outfit and in the end I think I scrubbed up pretty well: a red frock, Union flag scarf, flag earrings and red heels – possibly even subconsciously channelling Scooch. I was feeling a little self-conscious as I got the tram but any fears evaporated away once I saw other Brits. Despite being on my own for a substantial part of my visit, I always could find someone to chat Eurovision with!
From the moment I arrived at Globen it was insane. People dressed up, dancing, singing. I joined a small group of Brits outside being interviewed for a French TV station, singing Joe and Jake's entry at the top of our voices (apparently it's been on telly though I've yet to see it). Unfeasible movement-limiting outfits from years gone by. A guy in a flesh-coloured skin suit (so he looked nude) with a wolf protecting his modesty. Serbian human disco balls. Spanish milk-maids. Companies giving out leaflets and free samples everywhere. Promoters touting unofficial afterparties. Journalists. Cameras. All utterly bonkers.
My ticket had me in the Tele2 Arena next door to the final itself, for the "Eurovision Party". Security was a quick pat-down and in I went. I found another group of Brits (look for the flag – these lovely folks from Liverpool had bunting!) and hooray, we had beer too! In our Arena a few acts were performing before the Contest itself began, most notable of which was 2012 winner Loreen singing Euphoria live: this was my coming-out song a few years ago and it might seem soppy but the music still takes me back to that emotional rollercoaster.
We had a short informational note telling us when the broadcast would come live from our bit, and then the big screen went live to the stage next door. Not just the stage though, we had little screens showing us the Eurovision control room, the backstage area (fascinating watching  the acts prepare and all the movement that goes on around staging and scenery) and the artists' green room. A countdown to going live across the world… and… Good Evening Europe!
I'm not ashamed to say I danced. Belgium opening the Contest was excellent as it got us "in the mood", that Little-Boots-Meets-Uptown-Funk thing. I've never danced while the competition was actually airing and it was so liberating, especially with others dancing around and the occasional witty remark between countrymen. As Poland took to the stage I decided I needed another beer – bad timing, I heard an announcement we were going live imminently!
Simon and I quickly elbowed our way forward, and suddenly we were live with Måns Zelmerlow and two previous entrants! Unashamedly, I waved – and if you watch in HD you can see me and my unfeasibly long arm. So there, I was being a numpty on the official Eurovision coverage – that's one off the bucket-list.
The performances went on and by the time we reached the UK's entry – 25th down the line – I'd been joined by Jon who runs The Thoroughly Good Blog. We stood, nervous, tense, draped in my Union Flag scarf, and watched Joe and Jake storm it. The performance was flawless, the song a decent entry. We raised a glass.
I really very much enjoyed Love Love Peace Peace, the interval musical number performed by Petra Mede and Måns Zelmerlow alongside Eurovision stars such as Alexander Rybak and Lordi. I do hope they release it as a single, I'd certainly buy it but given the only copies of the 2013 song Swedish Smorgasbord are bootlegs I'm not holding out much hope.
Standing near the front I was grabbed by two women who said "You have to come this way! Come over here! We need a photo!" – it turns out I was as tall as their friend Agneta, and this was new. I posed with her for a photo and we danced for a while, chatting away and realising we were both the same sizes. Nice woman, maybe we'll meet again in a couple of years and dance again!
Scoring
I'm not a fan of the new scoring system, which separately takes the jury votes and the televotes to the net effect of jumbling the scoreboard again halfway through proceedings (still, I bet it made the drinking game in Wrenthorpe somewhat more hectic).
We were crossing our fingers it wouldn't be Russia and by the end of the jury voting it did indeed seem we had a winner in Australia; apparently over in the Press Centre someone was already booking hotels and flights for Berlin, strongly rumoured to be the venue.
The televotes came in and… well, Ukraine got it didn't they. I don't think we were all massively surprised, but certainly not elated as we should have been. I'd been talking to other fans and we were all glumly resigned to Russia winning although nobody seemed to want it, so surely Ukraine's good, right? Maybe not. Their LGBT rights abuse record and violence is well documented and I'm not sure I'd want to go somewhere my girlfriend and I don't feel safe.
Put simply, UK entry Joe & Jake were shortchanged: we had a very good song, and I don't consider it could have been executed better. Maybe the problem is all in the promotion now, but when it comes down to it for all that we laughed along with Terry Wogan, the casual xenophobia did a lot of damage and will take a long time to blow over.
In the aftermath, I ventured to the arena lounge and stopped with new friends until being chucked out at 4am – slightly cheaper gin, I only had to hawk the one kidney. As the sun came up I hopped a cab back to the hotel and collapsed into bed: ouchie sore feet from wearing heels for 8 hours, a slight smell of stale beer spilled onto me by other partygoers, and a total buzz from the night.
Aftermath
Sunday brought more wandering around Stockholm, a trip back to Gamla Stan, and through the remains of the Eurovision Village; it was nice to see someone else clearing up after a party for a change although it amplified my comedown somewhat. Making it back to the hotel to collect my bag and thus to Arlanda, I saw various Brits on the way and we chatted about the result, what it meant and where we might have gone wrong. Everyone had an opinion, but none of them pointed to our entry itself. Still, there's always next year isn't there.
(A little surreal to see the Israeli entry at the airport queueing for the security check next to me, as well.)
I'm saddened it came down to a protest vote – at least on the surface of it. This isn't what Eurovision is about, and for all the bitching folks do about the politics of voting for neighbours it's not affected it that much until this year. Russia are full of sour grapes, some press are talking about their country being the laughing-stock of Europe, and most have an analysis of the impact on 2017's event (Guardian link here).
Would I go to the Eurovision Grand Final again? Absolutely. It's like an addiction, and I will definitely be up for it especially when it's in Europe itself. I've met some lovely people from wandering around the town, in the Arena, even on the flight home. However I'm not sure that stretches to the risk of personal safety and being beaten up (or worse) in Ukraine – plus it's a bit far to go for a weekend…
…I might go back to submitting a song though. Hmm.
Header photo credit: Jason Foley-Doherty.