The dust has settled on the whole circus of the Eurovision Song Contest 2015, a year which felt stranger than previous events for a number of reasons.
Sweden's performance of Mans Zelmerlow's song Heroes was utterly justified in winning the contest. I'd recommend even if you don't like the ESC then you still take a look at the performance, it really was stunning and the song stands up on its own without the staging (at the time of writing it's sitting at number 5 in the UK midweek singles chart). It's yet another example of how Sweden's Melodifestivalen selection process works well for them.
The winner wasn't really on my radar until the week before when a friend alerted me to it, and instead I had a tenner on Russia (Polina Gagarina's song A Million Voices) squeaking it to the top. Ultimately I'm quite glad it's not taking place in Sochi next year given their record on LGBT rights – I'm pretty sure I'd get shot. Good song though, if a little hypocritical.
My sad-it-got-knocked-out song this year was Anti-Social Media's song The Way You Are which was unceremoniously dumped in the first semi-final. They look to have been a band constructed purely for the Dansk Melodi Grand Prix (which selects their Eurovision entry) but I hope to hear a bit more from them in the future.
I have bleated incessantly on why I think the UK usually scores poorly – maybe I need to write something about it. A slight bitterness aside, Electro Velvet's entry for the UK Still In Love With You just wasn't the right song and wasn't well executed: the sound for instance seemed to have the wrong balance compared to other countries (though nowhere near as bad as Jemini thank goodness). Mirrorball wouldn't have won anyway – Sweden and Russia were just too good – but I strongly suggest Ruby (who heads up Unity) would have netted us more than 5 points. We'll try again next year.
Honourable mention to Mel Giedroyc who was a perfect choice as co-commentator for the BBC's airing of the semi-finals, and good call to the BBC for bringing back the Eurovision Radio 2 pop-up DAB station. It'd be nice if it was the whole week of Eurovision and not just semi-final 2 and the final, but good effort nontheless!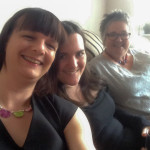 Meanwhile back in Wrenthorpe I braved a small Eurovision gathering – past memories and thoughts blacked the experience for me yet again so I think that's probably the last Eurovision party I'll host. It's the end of an era – I thought last year I might have handed over the baton but this seeks to underline it.
So, Gothenburg anyone? As expensive as Sweden will be, I'm going to make it across next year even if it means sitting in a bar watching it on TV – I want to soak it all up. Hey who knows, maybe we'll be on-stage – if anyone wants to chuck me some lyrics or get up and sing, you know where I am…