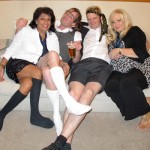 Right, that's that then, I don't have to keep it a secret any more! It's been hard to avoid if you're linked up with me on Twitter or Facebook but: this week's Come Dine With Me from Wakefield featured yours-truly. You can get the episodes in the UK on 4OD here: Angie, me, Donna, Jake, Francesca (proper sorry about the rights restrictions, non-UK people).
The recipes on the Channel 4 website are similar to the dishes I cooked but for completeness here are my own versions: Pan-fried Thai Scallops Glazed With Lemon & Coriander, Woodland Venison With Blackberries, Roast Potato Stack & Chanteney Carrots, Chocolate Truffle Torte with Home-made Vanilla Ice-Cream. I'm not having you all round for tea so you'd better learn to cook them yourself, perhaps you can work out how to stop them being "bland and boring". *cough*
There were a lot of people who helped me out on the whole thing but because I had to keep it secret most of them didn't know. Regardless, I thought it would be only fair to acknowledge their general awesomeness here:
First off, my long-suffering wife Nicky who put up with the daftness of it all and just kept out of the way when she needed to. She was very tolerant, especially since "my" day was the day of our 13th wedding anniversary (which we still haven't celebrated and N reminds me about that a lot). I also want to remind everyone Nicky weeded the driveway, lest she forgets to mention it for the umpteenth time 😉
My kids Ben and Ellie, who managed to keep it all hush-hush at school (the daughter almost at the peril of losing her best mate), and who ate the dish when I invented it therefore qualifying as the first set of guinea pigs.
Our mates Jayne and Phil who mucked in so much with sorting the house out and were, frankly, utterly ace: Phil was the best handyman ever (he claims responsibility for the semi-permanent lights in the sunlounge and the disco ball which we fitted after a skinful). Jayne ironed my shirts when I had to go do work instead, then they kindly allowed me to experiment on them for test run #2.
Mum, who did a shedload of ironing so the front room didn't look like a Chinese laundry, and made sure I ate properly on the Monday lunchtime when I was somewhere on the ceiling about the state of the house.
Ruby Macintosh who sang the same song over and over again in The Hop, looking photogenic while I got filmed waving a camera around. Lloyd from Cowshed who got drunk in the kitchen while waiting for Ruby to finish and enjoyed the smell of the balsamic as I did test run #3 – he didn't give me any hints and tips, it was all my own work 😛
Sarah at Ossett Brewery and Fish and Genevieve at The Hop Wakefield who let us use The Jam Inn and The Hop for filming.
People who supplied me stuff but (of course) didn't know what it was for: the long-suffering lady upstairs at Peter Maturi in Leeds who tolerated me wandering around for an hour trying to work out place settings and destroying her display. Kitchen's on Game & Fishmonger Row on Leeds Market who I bought out of venison several times and R Bethell fishmonger a few doors away who sold me lots and lots of scallops. My local greengrocer at Newton Bar who is very very good indeed. Dan from Choco House who wazzed me over some hand-made after-dinner mints. Butterflies school uniform shop on Northgate, Wakefield, who managed to find me a QEGS school blazer at the very last minute on Friday (and honourable mentions to the poor assistant in Asda who caught me trying on school uniforms and didn't call security). Bierhuis Ossett for a selection of splendid ales as a prezzie for Jake. David Brown Engraving who did the Dad Dancing trophy and had the good grace to stop enquiring after what CDWM stood for. Last but not least Nice & Naughty Leeds (that's a Facebook link so vaguely safe-for-work) who were the source of the gold disco pants and found me a fresh pair especially for t'telly (they're these ones – warning the link features a man in pants).
The day itself: Mum (again) who rescued me the first time I locked myself out by bringing keys round and stopping about for half an hour to do some washing up while I gyrated in the sunlounge. The next-door neighbours who lent me a ladder the second time I locked myself out. Dad in Australia who brought me off the ceiling in the silly hours of Wednesday morning (thank goodness for family in different timezones). Tillybods sarnie shop up the road who were a total oasis on the Tuesday lunchtime when I was in a state of near-collapse – their sarnies are brill.
My bandmates in Obvious Pseudonym who were happy to be on telly again. You can get a copy of Dad Dancing on iTunes.
Alan the PD who stepped back when I got stroppy with him at a critical moment, and the rest of the production team who were pretty bloody ace from the first phone conversation right up to getting us out of the house on Friday intact.
My clients at the time who were very understanding and generous in their flexibility, especially my coworkers in Ossett who put up with me looking exhausted and wired.
…and finally, Lucy who bullied me into doing it in the first place – it's all her fault.
I think I've got everyone in there. If I missed you out, sorry, I'm rubbish.
It was a fun experience of course (if a bit intense at times), the best host won (easily!) and I've made three great pals who it's been lovely to compare notes with, and I'm sure we'll continue going out for drinks together. If you're after insights and Director's Cut type stuff, the only bit it's probably safe to mention is this short jingle which I penned for when Donna and Angie explored the studio on Tuesday. I don't think the DAW behaved for it, which is probably a good thing really.
So what's next, shall I do Bargain Hunt? Or shall I just let normal service resume for a while… 😛