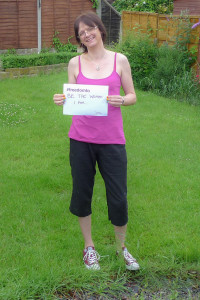 It's Pride season in the UK – all sorts of carrying-on-alarming from the LGBT scene and its supporters, rainbow flags and walking groups, free hugs, camp-as-anything acts, and a lot of very very drunk people. The first Pride for me is usually the big one in London at the end of June which – after a hell of a car-crash of a parade in 2012 – has bounced back with aplomb.
The theme this year was "Freedom To…", and a search of Twitter and related social media will show you a lot of people using the #freedomto hashtag. My effort's on the right.
Deciding to do it at the last minute I booked a day-trip. I've always stayed over before on the basis it's usually an exhausting day, but figured that the cost wouldn't be worth the layover and it's rare I go to any of the events afterwards. So off down to London I went, and once I'd collected my pass at the media centre just off Trafalgar Square I bimbled up to the start of the parade at Baker Street.
Strolling through the formation (and bumping into assorted Pink Singers and other pals) it was evident this was going to be a big one – yet there was no appreciable head-of-parade. Usually there are various politicians or Important People heading the start but this time the Gay Bikers Motorcycle Club were at the front. Naturally the heavens had opened (cue gags about UKIP influencing the weather to take revenge on the gays); two other photographers and I sought shelter in the only canopy we could find, while protecting our kit and struggling to get raincoats on.
No matter, with soaked shoes I followed the Parade down Oxford Street, and as I turned the corner to Regent Street I recalled this spot was the exact place I sat down last year and wept. How things change.
The curve of Regent Street is a lovely place to get decent photos and I sat while the Stonewall lot strolled down, headed by Sir Ian McKellen. As they neared me and I started snapping, he asked "Young madam, would you like us to stop?". Er wait, what? I nodded timidly… so he boomed "Everyone, stop!" – and they halted. I took a couple of shots, stood up, thanked him, and then we had a nice chat. Me and Sir Ian, cor!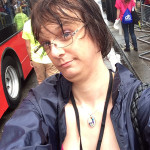 Things were a bit different this year for another reason: it was my first Pride post-coming-out. This afforded me quite an interesting opportunity in that I could compare with previous years how people in the parade perceived me: it used to be that a lot of the guys would flirt, smile, pose – this year it seemed a little more… reluctant, shall we say. In fact, there was an overall feeling "this isn't your parade", illustrating the G is definitely in a much larger font size than the tiny little LBT tacked on. Conversely though, I had much more of a rapport with the women's groups who welcomed me in with open arms.
(I later heard of some other transgender women being assaulted elsewhere at the event. I don't know who and don't have any specifics, but it's utterly reprehensible that even in supposed LGBT-safe spaces, this goes on.)
Ambling on, I met up with a couple of other women I know from Twitter, chatted with yet more assorted Pink Singers and stewards, strolled with a women's football team from Manchester where I made some lovely new friends, and set off for Trafalgar Square after the customary end-of-parade pint in the Sherlock Holmes pub just off Whitehall.
I reached the stage in time to see Samantha Fox, who's still cranking out formula pop with varying degrees of success. Sadly her monitors seemed to be malfunctioning and the performance was, frankly, atrocious; other photographers in the pit were looking at each other in disbelief. Thankfully it was over in fairly short order.

Sir Ian (that's my mate that is) strolled on-stage to introduce Conchita. The pit was packed for it – and rightly so, it's not often she comes to the UK. I got enough of the shots to be able to enjoy the performance and I'm glad I did, as I'm not hiding behind a lens on her stage photo for the Evening Standard, where you can see me just to the left of her hip.
After the performance by the Pink Singers the cold was starting to get to me; after all, it was 7pm and I'd been wearing soaked shoes since the downpour around midday. I cut-and-run, heading up Seven Dials to find a pair of sneakers, pumps, or indeed anything which would be nice and dry. Relieved at least one shop was open (thankyou Schuh) I doubled back and met up with more friends for drinks before hometime.
Maybe I'm just a bit more attuned to it this time round, but there did seem to be a lot more mention of transgender people in stage speeches from previous years. We're still the little tugboat behind the huge LGB ship though and there's a lot of trans-misogyny still to be conquered in the LGB space. Maybe with Stonewall finally acknowledging we exist after years of exclusion, the trend will continue upwards – I certainly hope so anyway.
The other thing is, I do so wish I'd stayed over for the women's after-party! Next year I'll be meeting up with some of my new friends for it, but of course as this year's trip was a last-minute decision and my trains were fixed, my hands were tied. That won't happen again!
Pride London finally finished for me at 1am when I fell back into bed at my house in Wakefield, leaving Lightroom to churn through several thousand photographs, exhausted but happy. Liberation is a wonderful thing, here's to 2015.