I've just got in from putting a sticker in the back of my car. Those who know me personally will realise how monumental this is: I don't stick stuff inside my car windows – I sorta begrudge even sticking a tax disc holder there. However, this is even more striking as I tell you it's a yellow souvenir car sticker for the Tour de France 2014 Grand Départ which has been the buzz of Yorkshire since it was announced in late 2012. Yep, seriously.
I grumbled about the Olympics, and am curmudgeonly as each World Cup bid is announced, so the Tour hitting our fair county got a lukewarm reception from me. I was booked to photograph the Tour route announcements for Leeds-List, and I showed up in a crammed little anteroom in Leeds Town Hall to hear Gary Verity and co tell us all about it. I have to admit, it was fun, but I still wasn't much into it.
Then my friend Cassandra Kilbride, crochet hooker extraordinaire and one of the complete and utter nutjobs behind Flock To Ossett dropped me a line. Someone had picked up on the knitted bicycle she'd created and wanted her involvement in the Yorkshire Arts side of the Grand Départ, and I got to photograph it. On a cold February afternoon in the middle of a Leeds courtyard, just outside the Welcome To Yorkshire offices, I lay on the floor and got a decent angle of Cassandra with her bike, and that was that as far as I was concerned – maybe she'd invite me to the launch or something?
Well, er, it was just that until she got in touch and there were workshops, and construction, and, and, and… well, to cut this bit short photos I took ended up in magazines and newspapers everywhere, and on the news, and even in Vogue. Yeah, I know, Vogue. They even let me into Sheffield Cathedral for the launch (where they're on display until 3rd August if you fancy having a look). So by this time I'm getting a bit more psyched about the possibilities of these lunatics wazzing around on bicycles… basically, it being Yorkshire, we don't do things by halves do we? I was even pondering watching it on the telly!
In amidst the day's work, an email arrived from my editor at Leeds-List – did I want to photograph the Grand Départ itself? Hell's teeth yes. As it was he couldn't swing me a full-on media pass (and to be fair, I'm a music photographer so wouldn't do it justice) but I was assigned the Otley Spectator Hub. I got a bit excited, truth be told – yeah this is me, Little Miss Unsporty.
I racked up in Otley at 7:30am and, I don't mind saying, the Bus Station Snack Bar does a mean bacon-and-egg sarnie. Having no idea how this was going to go I'd shoved a fair spread of kit in the bag so it wasn't light. A stroll down Pool Road and back, I walked the stretch a good 3-4 times to make sure I knew it backwards because, well, I didn't know where I'd end up. Plenty of crowd shots too!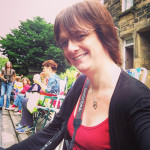 Eventually with 3 hours to go I found a spot with a double-bend and a kerb, and sat down in the gutter. People milled around me; occasionally I stood up and someone behind me would complain, and I'd sit down again (gotta stretch those legs!) but presently the whole Caravan bimbled past us throwing stuff into the crowd. The biggest cheer of course was reserved for the Yorkshire Tea float. Good folks, us Yorkshire lot, support our own we do.
And then peace for another 2 hours as the pavements filled, Otley Cricket Club opposite tried to sell more bacon butties as fundraisers, and people chalked the route. I have to confess, I was getting a bit bored – I needed the loo but didn't want to lose the spot I'd guarded since dawn, and apart from the usual emergency chocolate bars and bottle of water there wasn't anything else to do. Still, I managed to stream ITV on my iPhone until the mobile network completely went on its arse (a frequent occurrence in this country).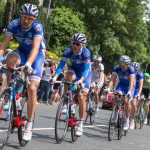 Midday. Police riders come past, a sudden bustle. There's cheering at each wave, then – there's the riders! Stuff! People! Things to do! I cock my camera, I snap and shoot, I curse the focusing, I mentally make a note to end the sullen teen who keeps wandering in front of my line-of-sight, I swear at the focal tracking, and less than 2 minutes later it's all over. That's it! All gone! I reached the limit of the internal shooting buffer on the 5D Mark III but I got the shots I needed. It had stayed dry and although my bum was somewhat numb, assignment done – and I'm buzzing, totally buzzing, more adrenaline than I think I've ever had at a sporting event (even eclipsing the Wrenthorpe Primary School relay race 2010 for year 4 – I know, right?).
Walking back to the car I grabbed a load more shots of the ambience, but the town was emptying quickly save for around the big screen in the main square. Having avoided water and damp for the whole trip I did of course manage to step in a huge puddle which had failed to drain that morning, soaking my Cons. Typical.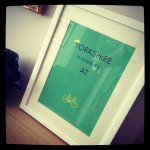 Once home, I published the rushes (the cherry-picks that go to the newswires) and got enough for the articles, like a good little photographer. Usually that's where the story ends, I forget, and go to the next gig with a fresh head (it's Pearl Jam on Tuesday in case you were wondering) – but this time, no, I'm still buzzing. It was a memory, one which was fabulous, and as I saw the crowds on Buttertubs as the Peloton climbed the hilltops, I recognised a welling up inside, a feeling I don't get much but which was incidentally recognisable, knowing between us we all did reet proper good…
…proud to be Yorkshire.
Photograph album links: Grand Départ on Ipernity and Flickr; Woolly Bikes Launch on Facebook; some exclusive photos have been featured on Leeds-List.com.
(Update: I've been asked a few times what kit I used. Body was a Canon EOS 5D Mark III, principle lens was the 70-200 f/2.8 IS L, with some of the crowd shots taken with the 24-70 f/2.8 L and 16-35 f/2.8 L. All edited using Lightroom 5.5 on a Mac.)