The tailspin of the performing arts sector has been spectacularly devastating during the COVID-19 pandemic – one of the many huge unreported issues has been the mental health of performers.
Frustratingly, 2020 was supposed to be the breakout year for The Bleeding Obvious. A new album accompanied by a variety of 'big' festival dates and Pride shows, an opportunity to compere a couple of large events, all culminating in a tour which had already sold out the London date. The pandemic put paid to all that with postponements and ultimately cancellations. I live-streamed a few shows but without audience feedback a performer is screaming into the void without any sort of interaction. Tough gig.
By the time the UK got to its third lockdown at the start of 2021 I'd had enough of it all: 7th January was the first bin collection of the new year and I decided to don a stage outfit to go bring the bins back into the yard. I have absolutely no idea why I did this nor why I picked the metallic red spandex catsuit in particular, but out I went while roping in family members to take a couple of photos.
The anniversary of the Cadogan Hall show fell in the following week: the last big show I'd performed as a guest of The Pink Singers in London. It felt like a nice idea to repeat the bin day dress-up once more and wear the rose-gold gown I'd worn in front of almost 1000 people a year back. It was snowing but that didn't matter since I had boots. In came the bins.
Week 3: having been booked by local venue Wharf Chambers to perform a live-streamed show as part of the UK government's Creative Recovery Fund, should I hold off a third time? Nah – let's get a frock on, it cheered me up twice previously – and so it officially became a "thing" that I'd do this weekly until we could have an audience in a venue again. I'd post the photos principally on Facebook, Instagram and Twitter.
I mean, we all have our coping mechanisms, don't we?
For 20 weeks Bin Day was exactly that: I'd wear a stage outfit, get some makeup on, Rae would hold a camera and I'd walk to the end of the driveway and collect the bins. That's all. No dancing, no singing, just bring in the bins, maybe occasionally strike a pose. Rae and I would time it so that it happened in our morning breaks, usually around 10:15pm. The neighbours started talking, occasionally there would be a guest star who'd pass by (Margaret was particularly popular) and accidentally be photographed. Drivers would honk their car horns, people would laugh.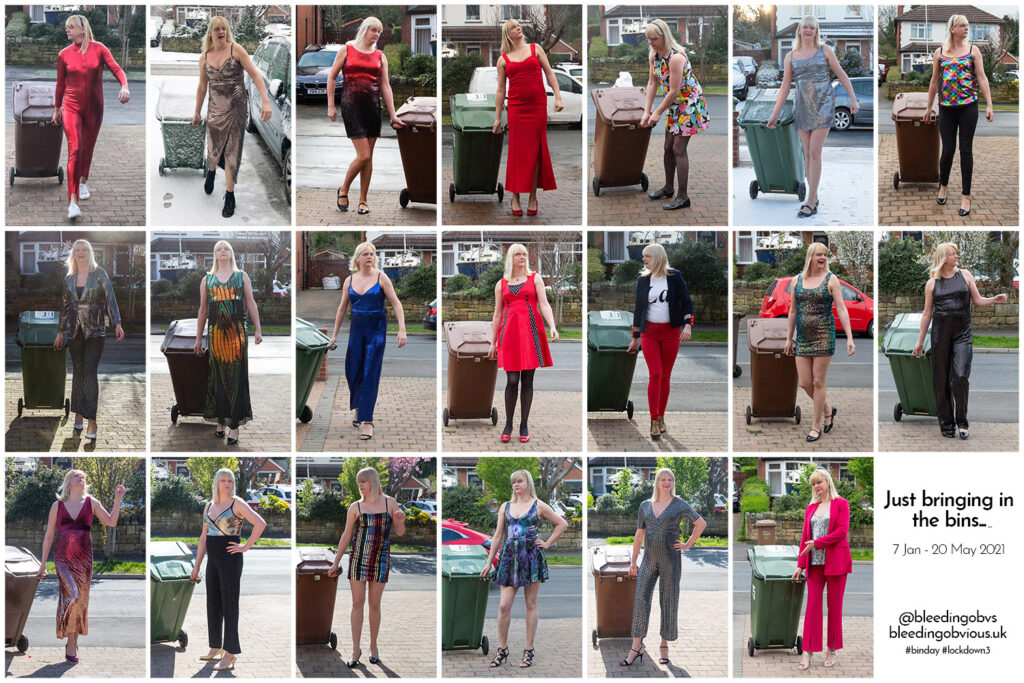 As time went on the schools reopened, so Rae left their duties to Ell who was back from university. When Ell went off to do other things the photography occasionally fell to my wife Helen, or my friend Francesca. When I was left alone I'd set up remote cameras on tripods to mince down the driveway.
Weeks passed. Friends and colleagues commented on social media where they'd list their favourite outfits, make remarks on what I'd chosen (not all of them complimentary) and tell me it was something to look forward to each week. Gradually I stopped recognising the names who were commenting as word spread, especially when online news website YorkshireLive did an article (Wakefield musician vows to wear different stage outfit to put bins out until she can perform again).
Bin Day gave me a weekly rhythm in an otherwise rhythmless world, and a link back to being a performer. You can't really see in the photos (which are all available on The Bleeding Obvious Instagram incidentally), but I also selected appropriate earrings and put on full stage makeup – the weekly ritual really helped me tune what worked.
Finally on 17th May performers were allowed back into venues and I brought the whole thing to a close, but there was time for one more bin day as an encore on 20th May. After that? Well, I've run out of stagewear for a start – this morning marks the first week of 2021 where I haven't donned an outfit and instead I'm sitting in the office writing code for the day-job. Break-time will consist of boiling the kettle rather than putting my face on.
It was quite good fun while it lasted, but now the bins are most definitely in!