It is done, sent off, completed. The studio is once again quiet and tidy – I've even managed to hoover the rug. Even so, it's littered with soldered makeshift instruments and lyrics scribbled, printed and sellotaped to random surfaces: they adorn the shelves, the mic stands, even the back of my chair. But my first solo album is finished and out of the door – it's a wrap!
Ten months ago in a Brighton hospital bed I aurally hallucinated, wrecked out of my face on morphine and grinning like an idiot. With the rhythm of the hospital machinery in my head I wrote "Sailing Alone", the first song for what would become the debut album of The Bleeding Obvious.
After such a major operation I planned to take a few months off work: teach myself to play guitar properly, read the instructions on the musical kit I've collected over the years, learn to circuit-bend noise-making devices. Over those weeks of freedom I saved various vignettes with no plans to use them, yet gradually music gained lyrics – even just phrases – and the seeds were sown.
With a complementary idea to rework songs written with a previous band I went back to the original master discs to play with the concept: the effort turned into "The Obvious Pseudonym", a largely instrumental song which took musical motifs woven into an orchestral overture. A group of degree students in Leeds formed a small makeshift orchestra to develop it as an idea. Unfortunately, using old songs turned out to be a bit of an emotional dead-end but did lead to new hooks. "Hang on," thought I. "Maybe this new material could work as an album?"
Ideas came and went. By February there were 13 tracks some of which would change very little over the coming months and it was a slow burn. Much to the amusement of my partner at the time, I'd jump naked into the studio in the middle of the night to record a part, adding unusual instruments to the mix simply because I could. I taught myself to play rudimentary saxophone and flute and strange signal paths were wired up involving miniature pianos or circuit-bent childrens' toys. I felt relieved my poor neighbour Doreen is hard of hearing.
The first three musical friends on-board were vocalists: Anthony Jackson-Stubbs of LGBT disco pop band Paleday, Ruby Macintosh (who I'd worked with previously on the Eurovision wannabe track "Mirrorball"), and my old blues crooner friend Scott Wainwright. Wordsmith Helen Rhodes took a concept for I, Human and blasted it into some really quite terrifying lyrics, Ralph Dartford of A Firm Of Poets agreed to speak them for me. My close friend Marie helped me with lyrics and came back with comments.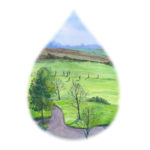 On the subject of artwork, the blood-drop was one of those things which seemed to be there from the first day but became a consistent motif throughout the whole project. It stands for tears of sadness and joy, the rain, the sweat, the blood. Or, more simply (as my partner Helen put it), blood sweat and tears – here through sheer graft. The visual element further coalesced when my friend Cathie Heart agreed to do a photoshoot around Kirkstall Abbey and down by the canal at Granary Wharf in Leeds, where I was bitten by a midge and leant against a piece of scrap metal looking like I was touting for business from the local sailors.
Every song has its own piece of artwork around the teardrop, everything tells a story.
I enlisted instrumentalist friends: a peppering of drums, a pedal-steel guitar, violin, viola, punk wailing, the orchestra of course, and flute from a childhood friend I sang with at Wakefield Cathedral. Although by early August most of the Leeds students had gone their separate ways I had almost enough orchestral stems to complete the work, and those folks I still spoke to with were gracious enough to record more. My former band-mate friend Simon Rowe (now of Berlyn Trilogy) produced Wallflower with me and gave pointers for other tracks; my son Ben assisted on production and the overall story arc (the vocoder on "Splendid!" is his doing for instance). Other vocalists stepped up to the mark: the extraordinary voices of Jacqui Wicks (aka Ossett Observer), Irene Purcell, Colleen Taylor and my daughter Ellie Rowbottom all grace tracks, bringing their own feel to the music, influencing songs and completely changing their character as the weeks passed.
Finally, accompanied by cheese, home-made biscotti and Prosecco, a group of us sat in my lounge in Wrenthorpe last Saturday and listened to it start to finish with nothing more to be done, music complete. Splendid!
On 17th November 2016 exactly one year since that first song was written, it will be unleashed on the world. You'll be able to get it on red vinyl LP with gatefold sleeve, digital (Amazon, iTunes, Google Music and all that),  and of course on CD. Before that, from mid-October it will be available for preorder online, or you can coax your local independent record store into getting it for you – it's on the Hotfox label, catalogue HFOX001. There's also a launch gig at Unity Works (Wakefield) on 19th November which is selling fast, so you probably want to get your ticket soon.
A former acquaintance was fond of saying "one day this will all be an anecdote", the phrase which opens the prologue spoken by my daughter Ellie. It's an angry album, a pissed-off album – but at the same time a body of work with optimism for the future and an appreciation of those who have stuck around; a collection of songs telling a very personal story. I hope you enjoy it.
Meantime, here's a preview in the form of track 7, "Put Your Arms Around Me", featuring my wonderful friend Ruby Macintosh on vocals:
Update! You can now buy the album via: iTunes and Amazon, get it posted to you on CD or vinyl, or stream it on Spotify.