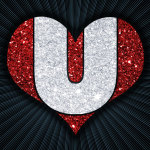 Hey everyone, I'm in a girl band.
Yeah, I know, it definitely wasn't on the plan, but here we are… I'm part of an all-female act called Unity from Wakefield, West Yorkshire, UK, who are hoping to represent the UK at the Eurovision Song Contest 2015 with our song Mirrorball.
The past few weeks have been a whirlwind – it's been written by me and my old mucker Simon Rowe (he of Obvious Pseudonym during the EP years), with lyrics written by industry pal and latterly shoulder-to-cry-on Mel Dymond Harper. Add friends into the mix: Cat, Lynn and not least a fabulous lead singer in Ruby Macintosh, and we've got a splendid effort!
The other Thursday we spent the evening at Unity Works filming the video (which was fun and I realised I do have at least some arm/leg coordination), assisted by some of the most talented stage people I know. Marci and Laurie in particular were adept at chucking camera footage around.
Anyway, we're not actually allowed to perform it in public or let people listen to it so I'm asking for a leap of faith to please go follow us on our Facebook page or @unityesc over on Twitter.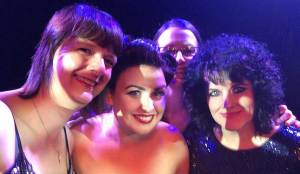 This isn't a kickstarter, we're not asking for money, we're just asking for a bit of social promo please because if it gets to "a particular stage" we'll need all the support we can get! And I'm sorry you can't hear it yet but hopefully the first time will be on national telly.
Love you tons, and thanks. x