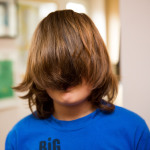 "Sponsor my son, please!"
My son Ben has taken it upon himself to raise a bit of dosh for Cancer Research UK by shaving all his hair off and going bald, and he is seeking sponsor donations for it. He's always been the lad with the longest hair in his school, and is well known for his mop – it'll be a bit odd seeing him bald (and I don't envy him given it's approaching winter). All power to the lad though!
The hair, once snipped, will hopefully be going to another cancer charity to weave wigs for kids who've lost their hair through chemo, etc. so it's all good!
If you can find it in your hearts to chuck a couple of quid his way please, that'd be lovely and he would be epically grateful (and so will I!). I'll post some photos once he's all bald, and maybe even Ellie will do a video of the ritual head-shaving on Youtube.
His fundraising page is at https://www.justgiving.com/ben-rowbottom/ – even a couple of quid would be welcome, please!