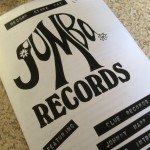 Yesterday was Record Store Day 2014. Here's an article I wrote for the Jumbo Records fanzine which was given out in Leeds – wonderfully put together by the gorgeous and talented Antonia Lines. It's loosely based on an article I wrote in January last year entitled Changing The Record, in case you think you've got déja-vu….
I love physical media. There just isn't enough of it nowadays, what with downloads and The Cloud and playlists an' ting.
I'm an old bird really: my first single was a 7" copy of Heart Of Glass by Blondie which I persuaded my grandmother to buy for me. It came from our local WHSmith, back when they stocked music and weren't taken over by cheap chocolate at the checkout. The sheer joy of the record, the artwork on the front and the notes on the back, the enigmatic shine of the grooves in the black platter which (if you were really clever) you could use to work out what song was what.
Then came the sheer talent of being able to get a needle in a track-break on the first go. You could totally skip tracks with that.
In the 1980s I'd listen to music on the radio and then go and find the record – I've got a fond memory of attempting to sing 'The King Of Rock'n'Roll' by Prefab Sprout in Woolworths while they tried to work out what it was (they did guess, but it took a few minutes of caterwauling by the pic'n'mix). I saved and saved so I could by a 12" copy of New Order's classic Blue Monday – and if my schoolfriends had any records to sell, I was there with whatever readies I'd scraped together.
I loved physical records in the early 90s when I'd dig around on Thursday in Leeds Market, just after I'd got my pay-packet from my little weekend bar job. I'd buy albums purely because of the artwork on the cover and discovered some fantastic artists that way – both mainstream and people you've never heard of. Musicians like Duncan Mackay, bands like Can and Kraftwerk, early Genesis, Joan Armatrading – all remnants of someone's old record collection being replaced by CDs.
Then there were the mid-90s: I'd make a pilgrimage to Jumbo to see 'interesting stuff the staff found' complete with a small sticker telling you what it was like – comments like 'big farty bass and a synth line your mum will hate'. That was brilliant – it's how I discovered artists such as A Tribe Called Quest and labels such as FFRR. The local independents made a fortune out of me in my Uni days.
By the turn of the millennium I was living in London, but I'd still go up to the vast record stores of the West End such as Tower which was open until midnight every night. I'd come out of the pub absolutely plastered, go to the shop and buy a pile of CDs from the sale pile. The following morning was always a voyage of discovery, not least when the bank statement arrived. My partner at the time would roll her eyes at the carrier bags, and the one single obscure classical music CD bought to placate her.
Then came Record Store Day. Hooray! My favourite RSD acquisition from last year was the Dutch Uncles cover of Slave To The Rhythm, a great reinvention. Interesting remixes, fantastic covers, strange collaborations – it's all there. But the thing is – it's all there even when it's not Record Store Day. Go find your independent store, dig around. Buy stuff! Listen! What's the worst that could happen?
I now live back in Wakefield and we've got some great shops. I still accumulate CDs and vinyl, much to the amusement of my children. I sit in the conservatory, hold the gatefold, read the sleeve notes, look at the artwork and listen to the music – you just can't do all that with a download.